Efficient and safe reuse of wastewater
Using water efficiently – DAS Environmental Expert GmbH supports companies from different sectors in optimising their in-house water cycles. Our customers benefit from a comprehensive portfolio of technologies, plants and services – from the initial analysis, planning and process development, all the way through to operating the plants
Efficient environmental technology "Made in Germany"
When it comes to water, there are two ways to set up a company as efficiently as possible and thus save not only resources but also costs: wastewater prevention and water reuse. Where water reuse is concerned, you can trust environmental technology experts DAS Environmental Expert GmbH.
DAS stands for reliability and quality. Our extensive technology portfolio makes it possible to send a wide range of different types of wastewater for reprocessing and to clean it up so that it meets the relevant requirements. For instance, specific substances can be removed from wastewater so that the water can be reused in the production process (fit for purpose). However, it is also possible to treat wastewater in a centralised facility in such a way as to achieve extremely high water quality. We generally find bespoke solutions for each individual case. And our customers benefit from the many years of project and process experience, as well as the outstanding technological know-how of our experts.
Whether the processed wastewater is to be used for irrigation or fed back into production, the wastewater treatment systems supplied by DAS Environmental Expert GmbH ensure compliance with legal requirements under all circumstances. Limit values are reliably maintained and the required water quality is guaranteed. The systems from Germany are also reliable, low-maintenance and can be run with minimal expenditure and manpower.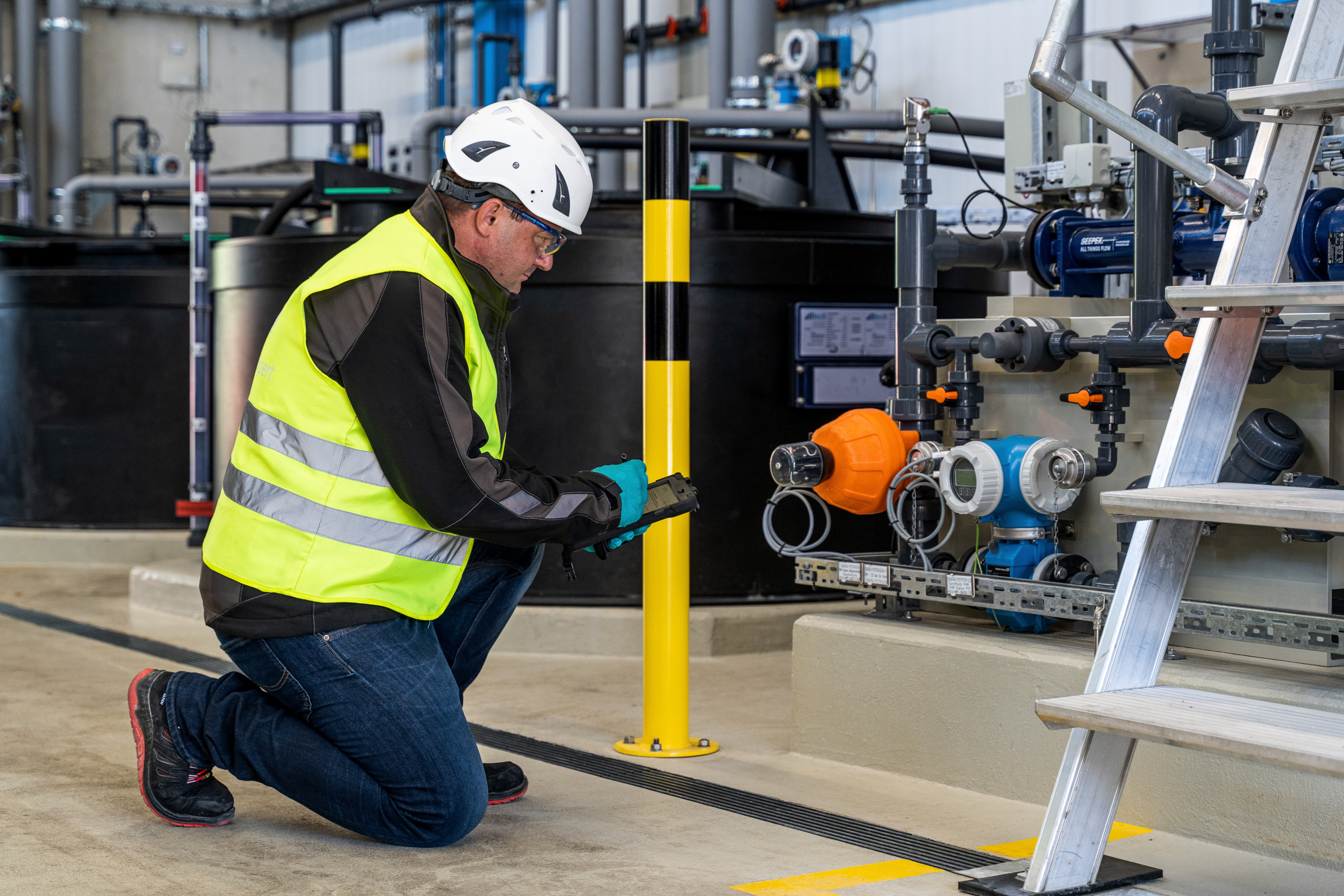 Large portfolio for bespoke solutions
Innovations are our response to the specific requirements of our customers. For instance, an increasing number of manufacturers from the high-tech industry ask us to take care of cleaning not only waste gases but also the associated wastewater. For this reason, DAS offers special Point-of-Use (PoU) solutions for water recycling in this area.
For companies where smaller quantities of wastewater need to be treated and where there is little space available, our Trickle Flow Reactor (TFR) tends to be ideal. Wastewater that is highly contaminated with organic substances can also be treated with the Moving Bed Biofilm Reactor (MBBR) process. The portfolio of solutions proposed by DAS Environmental Expert GmbH also includes other biological processes for wastewater treatment, such as the Upflow Anaerobic Sludge Blanket (UASB) process, the Membrane Bioreactor (MBR) or the Sequenced Batch Reactor (SBR).
However, DAS also offers water reuse solutions on a large scale and for other industries, such as the food and drinks industry and the chemical industry. Mechanical, chemical/physical or biological processes are used according to the wastewater characteristics. Often, optimal treatment also results from the combination of different processes.
For the treatment of wastewater that is highly contaminated with organic substances, the Moving Bed Biofilm Reactor (MBBR) process in particular has proven itself for industrial applications thanks to its process stability, high cleaning capacity, easy operation and low surplus sludge volumes. Other processes in the DAS portfolio include the Trickle Flow Reactor (TFR) and the Membrane Bioreactor (MBR). What's more, DAS, together with its partners, also offers anaerobic solutions.
Coarse and fine matter can be separated mechanically with the aid of screens and grills, and oils and fats can be separated using grease traps. Matter can also be mechanically separated by filtration and sedimentation. Flotation can be used to remove dispersed or suspended matter from liquids. In this process, tiny gas bubbles are used to bind these substances and transport them to the surface where they can then be removed. Larger solid particles can also be separated by sedimentation in the slurry tank.
These physical processes are often combined with chemical wastewater treatment processes. For instance, dissolved substances (e.g. heavy metals) can be separated from solutions by precipitation, and very fine particles can be separated from suspensions or colloidal solutions by flocculation. During neutralisation, the pH value of wastewater is brought to the required value by adding acids or bases.
Where necessary, other methods can also be used to break down specific pollutant loads. For example, oxidation processes, adsorption using activated carbon and simple sand filters also form part of the portfolio. In close consultation with the customer, the specialists at DAS Environmental Expert GmbH develop bespoke solutions that correspond to the local conditions of each individual case.
Membrane technology is often essential, particularly for water reuse, due to the water quality that can be achieved. Ultrafiltration is mostly used to remove matter, macromolecules and microorganisms such as bacteria and yeast. If even higher water quality is required, reverse osmosis can be employed. This process removes all the substances that have dissolved in the water, such as salts.
Your contact person for all questions on wastewater treatment
Mr Mirko Heinze
Chief Operating Officer Water Treatment
Phone: +49 351 40494 163
Email: