PURPLE INNOVATIONS
FOR GREEN MANUFACTURING
The responsible approach to the use of air and water, our vital resources, is one of the global challenges of our time. Since 1991, DAS Environmental Experts has met this challenge with targeted investments into future-oriented technologies for waste gas abatement and wastewater treatment..
DAS systems for waste gas and wastewater treatment are applied globally. Our sales and service network secures a safe, reliable and efficient customer support around the clock. In the coming years, DAS EE plans to further expand its Southeast Asia team to optimise operations of the installed base in the region and close customer communication for all development projects.
Planning and Construction of Industrial Waste Gas Treatment Systems
DAS Environmental Experts offers custom-fit and effective solutions to manufacturers of high-tech products worldwide. We develop and produce Point-of-Use abatement solutions for waste gas streams between 1 m³/h and up to 5.000 m³/h. DAS Environmental Expert waste gas abatement systems are capable of treating condensable, flammable, corrosive, reactive, toxic and/or pyrophoric waste gases, as well as fine dusts. Our customers from the semiconductor/MEMS and solar industries, and the TFT and LED sectors, profit from the technological expertise of our DAS specialists worldwide.
Choosen Systems and Solutions for Clean Air
Wet Scrubbing of Waste Gases from Wet Bench Applications
SALIX is our point-of-use wet scrubber family specialised on process waste gases from single wafer clean wet benches. The system allows high flexibility towards process changes and saves space and cleanroom air, compared to older concepts.
The process waste gases are burnt in a decomposition zone. If required, a fuel gas can be applied. Depending on the chemical composition of the waste gases, various reactions take place, such as oxidation, reduction or pyrolysis.
The Burner Product Family LARCH was especially designed for MOCVD processes in the LED and GaN industry. It is capable of treating large flows of the typical gases hydrogen and ammonia.
To find out how our treatment solutions can benefit your business, contact us now.
Planning and Construction of Industrial Wastewater Treatment Systems
Being an expert for wastewater treatment we offer you a wide range of biological and chemical-physical technologies to make the specific pollutants of your wastewater comply with permitted limits. Our service portfolio as turnkey provider includes consulting services and the overall project management from planning until handover of the plant. We also assist you with service and maintenance. Upon request, we can also operate your wastewater treatment plant for you.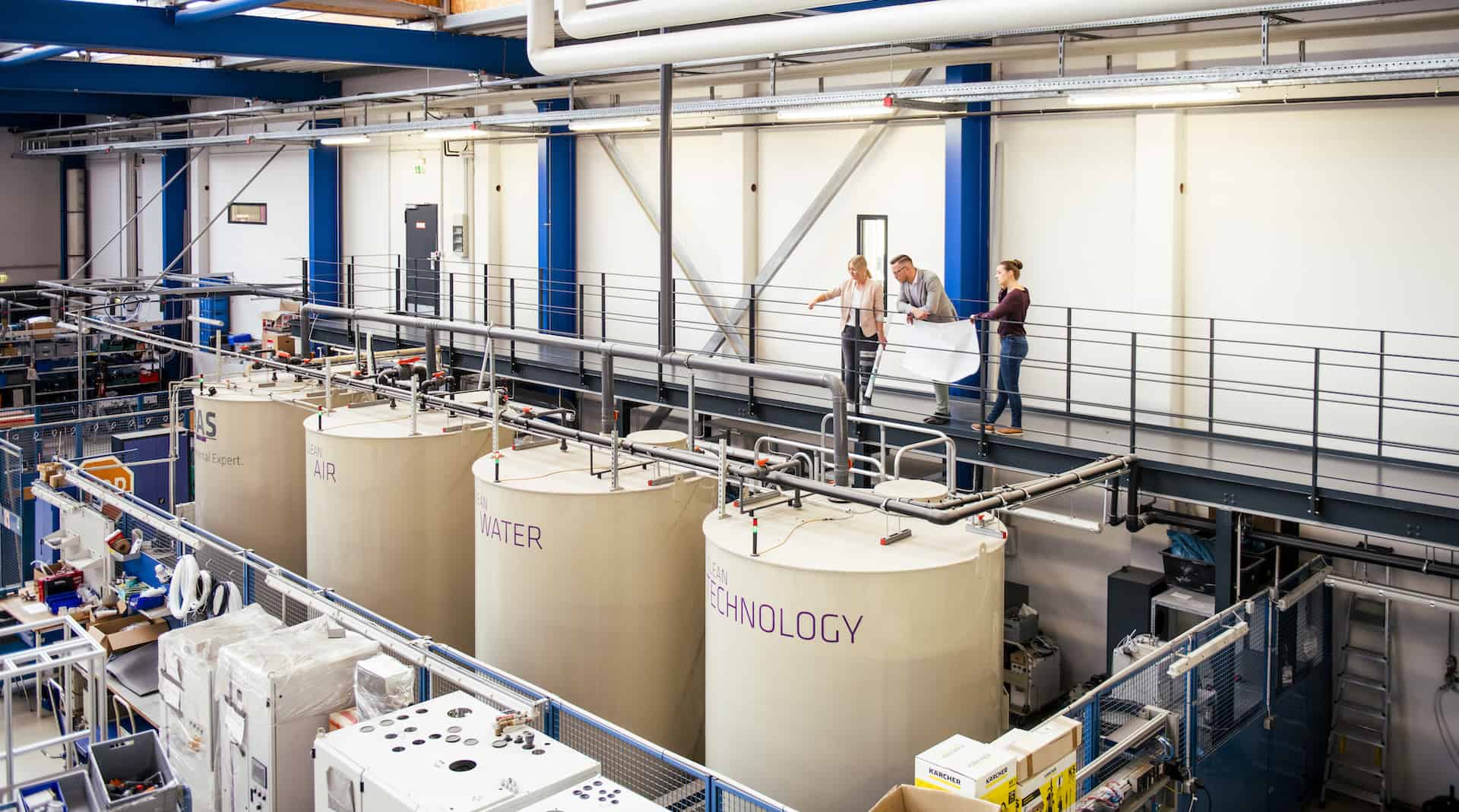 Worldwide Support for Environmental Technology Made in Germany
DAS teams work in 11 offices on four continents on the development of our products and the service for our installed base. In this way, we facilitate fast response time, intense customer support and a constant eye on industry trends.
The internationalization of the company has started at a very early stage. At the end of the 1990ies founder Dr. Horst Reichardt dared to enter the Taiwanese market and explored the Asian market from there. Few years later, the foundation of branches in the USA and Singapore followed. Since 2010 DAS Environmental Expert is operating also in the South American market.
2022 DAS EE opened its new office in Malaysia. With this milestone, DAS EE reacts to the growing demand for its point-of-use waste gas treatment systems in the regional semiconductor industry. Besides the service for the existing installed base, joint development projects with customers will be enforced. These projects will focus on innovative solutions in energy & resource management.
Our Branches in Southeast Asia
Singapur
DAS Environmental Equipment Singapore Pte Ltd
21 Woodlands Close
#07–22 Primz BizHub
Singapore 737854
Phone:
Email:

24/7 Service Hotline: (call only)
Malaysia
DAS Environmental Equipment Malaysia Sdn. Bhd.
Suite 1.09 (1) & 1.09 (2), First Floor
KHTP Business Centre, 09090 Kulim
Hi-Tech Park, Kulim, Kedah, Malaysia
Phone:
Email:

24/7 Service Hotline: (call only)
For further information on our solutions for waste gas and wastewater treatment, please fill out the following contact form.
For further information on our solutions for waste gas and wastewater treatment, please fill out the following contact form.